Shanghai Sansi
small-pitch LED display
settled in the national 5A -level scenic spot--Shanghai Science and Technology Museum, and it was successfully put into use with excellent product quality and display effect.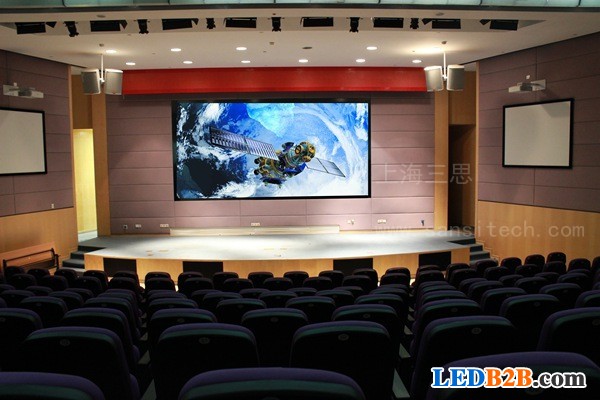 Big screen and extreme light and thin
 
The screen is located in the lecture hall of the Shanghai Science and Technology Museum. It uses a double-think indoor full-color 2.5mm small-pitch product with an area of ​​nearly 17 m2. The embedded design close to the stage wall is light and energy-saving, which not only saves the stage space, but also is fashionable and beautiful, bringing you a modern sense of the face. Through the almost perfect product design and installation technology, Sansi has achieved the perfect unification of the big screen and the ultimate thinness. Who said that the fish and the bear's paw can't have both?
 
   Nature, people, technology
 
Shanghai Sansi has strong technical strength, the screen color is beautiful and vivid; the screen movement is smooth and smooth; the image is stable, no stroboscopic, perfect for every detail. Can achieve real-time response to TV broadcast, refresh rate lock function, to prevent image tearing. At the same time, the screen body electrostatic protection and filter dustproof design and automatic protection technology such as over-temperature power-off have greatly extended the service life of the display.
 
In addition, the screen fault self-test function automatically reports errors, which is convenient for the staff to quickly maintain. The brightness can be automatically adjusted to the best viewing effect, not only low-carbon energy saving, but also a strong humanistic concern. It is the best interpretation of the theme of the Shanghai Science and Technology Museum "Nature, People and Technology".
 
   Quality-oriented, tree century brand
 
With the continuous deepening of the application of LED display , unlike the frequent maintenance and replacement of many screens, Sansi is based on quality, each project is a boutique, once again into the New York Times Square; different from other manufacturers exaggerated induction, think twice, seek truth, win Customer trust; unlike the market's pursuit of smaller indoor spacing screens, Shanghai Sansi also dares to overcome technical problems and constantly develop outdoor small-pitch screen market, taking the lead.
 
Shanghai Sansi small-pitch led display uses the best product quality and people-oriented concept, together with the Shanghai Science and Technology Museum, to create a world-class pavilion and become the most shining city card.
Sterilization Card Bags
Guangzhou Ehang Electronic Co., Ltd. , https://www.ehangmobile.com